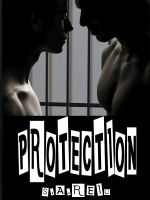 There's a saying that goes something like, "life is not measured by the number of breaths we take, but by the moments that take our breath away." I'm a firm believer that some of those shining little breathless moments don't take place in reality at all, but in the realms of the fictional people we invite into our lives. Those moments may come from a mere turn of phrase, or they may come from reading a book whose characters are unforgettable. More than a few of those breathless moments happened for me while reading Protection, not because the language of the narrative was exceptionally unique, but because the story itself was so tragically beautiful that it caused me to question my belief in the black and white of some actions which absolutely should not be forgiven, and reinforced my belief that there are times when hate and love truly can coexist within the confines of a single relationship.
Protection opens in pre-World War II England in the fictional Wentworth Prison, where Gabriel MacKenna is serving concurring life sentences for murdering his parents. Is there such a thing as justifiable homicide? That question gave me something to chew on as I learned more about Gabriel and the crime he'd committed. There's no question he deserved to be where he was, but there's also this gray area of understanding where Gabriel is concerned which allowed me to empathize with him on every level. He was such a dichotomy of behaviors, incredibly violent and philosophical about the justice he metes out—it's necessary for his own survival as well as for those he chooses to protect, after all—yet there is a charisma and charm about him, an innate intelligence and aching quality to him that made him irresistible in spite of how much I tried to convince myself he should be entirely beyond redemption.
Dr. Joseph Cooper doesn't belong in prison. He became the fall guy for a doctor who framed Joey for the death of a mother and her baby, tricking him into writing a confession that effectively robbed Joey of his life and locked the door to his cell before he'd even had the opportunity for a fair trial. The worst possible thing that could've happened to him upon his arrival at Wentworth was to catch the eye of Gabriel MacKenna, but that's exactly what happened, and in Gabriel's world, a doctor who murders a woman and her newborn child is due the sort of justice that Gabriel serves.
This book is a series of conflicts and contrasts. It contains scenes of rape and violence, which given its setting isn't unusual or unexpected. What was entirely unexpected was that I found myself trying to justify Gabriel's actions and his relationship with Joey, and there is a hypocrisy in my way of thinking; I freely admit it. How can love evolve from such a violent beginning? Need, desperation, the want of human touch and the desire to belong to someone can spring from even the most barren ground, it seems. Love can be a prison in its own right, and freedom can be empty when the person you wanted to share your life with isn't there to share it with you.
These are men who draw a distinction between being queer and being "prison queer" and it's an important difference to them—one is a perversion and the other is making the best of what's available. But falling in love with someone who's supposed to be nothing more than a way to scratch an itch crosses a line. It makes you begin to dream of possibilities of a future that can never happen. It makes you want things you've never wanted before and it makes you realize how helpless you are against your circumstances, and that is a heartbreaking reality that clings to me even now, long after finishing this book. Gabriel's love for Joey intensified his already exaggerated need to protect what was his, and in the end, the depth of that love proved fatal.
S.A. Reid has written a story that challenges perceptions and confronts perspective. Protection is a book I'll read again sometime; maybe the next time I'm in the mood to have my heart yanked out through my tear ducts. It's painfully beautiful and beautifully painful in its defiance of the rules of traditional romance, and I loved that the author made me believe in and be grateful for all of its contrasts.
Buy Protection HERE.