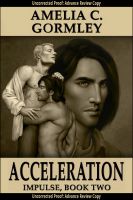 You can clutch the past so tightly to your chest that it leaves your arms too full to embrace the present. – Jan Glidewell
Amelia C. Gormley's "Impulse" series could easily be subtitled The Erotic Anatomy of a Relationship, and whether you like it or not may depend on how much you love to get into the nuts and bolts of what makes a man who he is, and why everything that has happened to him in the past has a bearing on everything he does and feels and says—or doesn't allow himself to say—in the present.
Acceleration is the continuation of the story begun in Inertia, the story of Derrick Chance and Gavin Hayes, two men who have brought a fair amount of baggage into their relationship, and the ways in which they're working to sort out their trust and communication issues outside of the bedroom—the one place Derrick seems to be able to understand what he needs from Gavin—and how the backdraft of their sexual connection influences them in other ways, as Derrick learns he wants the pleasure/pain of sexual submission, and Gavin accepts that his dominance and the need to mark and claim Derrick is not in any way a form of hatred, neither of himself nor of gay men in general, but is simply an innate part of who he is.
The two men still have a ways to go to mend all the things that are wrong with their relationship, both in the ways Derrick tends to alienate Gavin in his instinct to keep parts of himself to himself, as well as in what's becoming the unfortunate realities of prejudice and what it means to Derrick now that he's living as an openly gay man. And of course, there's also the overarching shadow of Gavin's HIV status and the weight it places upon so many of Derrick's actions and reactions.
I'm completely hooked on these guys, no question about that. This serial is one-hundred percent character driven and is an erotic interface of psychological boundaries and sexual release and relationships 101. I want to stick around and play voyeur in their bedroom, and I want to follow them headlong into all the challenges they still have coming their way in the next book, Velocity.
Available for purchase at the following E-tailers: