Accept the things to which fate binds you, and love the people with whom fate brings you together. – Marcus Aurelius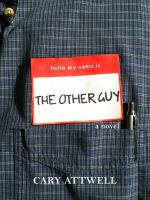 Have you ever just wanted to hug a book really hard and then kiss it and then thank it for giving you hours of bliss? Oh. Well, maybe it's just me. But, gaaaah, I want to shout my love for this one from the rooftops, for it is sublime. And then it ended. And now I want a sequel. I'd settle for an epilogue. A haiku?
The telephone rang
Emory professed his love
Happy forever
Okay, I suck at the haiku, but you get the point. I want to see what happens after the phone call.
The Other Guy is the story of Emory James, and to say that Emory is unlucky in love is kind of an understatement, considering that his fiancé has just ditched him at the altar and run off with her first college boyfriend (picture Elaine and Ben at the end of The Graduate). But never let it be said that Emory's not a classy guy. The booze, food, and band are already paid for, after all; the reception must go on. And furthermore, so must the honeymoon. Or at least that's what Emory decided once the sobbing stopped. A trip to Thailand, where no one knows him or the humiliation he's suffered, is just what he needs; a week in paradise where he can be someone other than Emory James – The Other Guy. Emory can be the Good-Looking Bastard and none will be the wiser. He's such a trooper. And Jeremy Renner's playing him in the movie.
Well, this is where Nate Harris enters the picture, and this is where things really started getting good. Chemistry? Pish. Nate is a force of nature, and it's clear from word one that he and Emory have a connection that goes far beyond a simple bromance. But Emory? Well, Emory's not gay and things happen and then he blurts right out why he's in Thailand on his aborted honeymoon after Nate kisses him in the rain… Emory's not gay? Pish. And then that force of nature that is their attraction to each other takes over. And then Nate flies home. So much for their vacation romance.
Or is it?
It wouldn't be much of a book if that was the end of the story, would it? Nope. Months later, Fate with a capital-F makes sure to give these boys a karmic boot to the posterior, and shoves them directly back into each other's orbit, and if there were any two people whose lives needed to coalesce, it'd be these two. But you can't possibly think it'd be that simple, can you? Nope. So, Emory is probably gay, or at least bi, but getting him to admit it to himself, let alone to anyone else, becomes a roadblock to his and Nate's happiness. And then there's angst. And the return of the fickle fiancé who's decided she made a big mistake. Yikes, conflict.
Well, if there's anything we've all learned from romantic fiction, it's that love always finds a way. Sometimes all it takes is the verbal smackdown from your best friend, and the courage to face your fears, and the chance to ask for forgiveness that all comes together in the perfect storm of resolution and helps a guy navigate his way to Happily-Ever-Afterland before he takes a wrong turn at The-One-That-Got-Awayville.
But I still want to know what happens after that phone call.
The Other Guy is Cary Attwell's debut novel, and all I can say is that I'll be watching for any- and everything else I can find from this author. This book is charming and clever and I adored it so much that I couldn't put it down. In fact, I may just go ahead and read it again.
Buy The Other Guy here: