"When a fantasy turns you on, you're obligated to God and nature to start doing it—right away." – Stuart Brand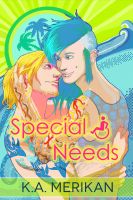 This was a book of firsts for me. I've never read anything from the author, and I've never read about a main character being wheelchair bound. I was interested to see how the author would develop a character with special needs; would it be about the person or the chair? I'm so glad I did.
Liam has a history of sleeping with his bosses and then getting fired. He's out of a job and living in his car, so he's pretty desperate to find a job. He interviews for a job as a caretaker for a young B&B owner who is in a wheelchair. He gets the job and is determined to keep it, so it's hands off his employer, who just happens to be the cutest thing Liam has ever seen.
Ryan, Liam's employer, inherited his B&B from his late aunt. It's not just any B&B, Ryan turned it into a kinky sex fetish B&B, where there are many themed rooms for people to come and live out their fantasies. I fell in love with Ryan's character immediately. He's funny, he has a cute way of just blurting out whatever he wants sexually at the most inappropriate times, he made me laugh out loud quite often. He's very self conscience of his legs and is so shy, he's never really had a boyfriend before. He has a website that caters to people who have a fetish for disabled people, and is happy to do his part to contribute whatever he can to make them happy.
The story itself tells the day to day running of the B&B. We meet Ryan's two employees who work there, Rodney and Fay who add their own sauciness to the mix. We get a look at what Liam's duties are as well, cooking meals, taking Ryan shopping and carrying up and down the stairs to his bedroom. Liam hasn't told Ryan he's gay. In his head its better to have Ryan think he's straight, so he's not tempted to have sex with yet another one of his bosses. It kinda back fires on Liam as he tries to find Ryan a boyfriend, all the while lusting after him himself. And what he doesn't know is that Ryan is feeling the same for him.
I actually loved the slow pace of this book. We really get to know Liam and Ryan and their daily interactions with one another. Their easy going rapport with each other was very sweet and you see them evolve into more than just employee and employer. You see a very emotional bond form between them that eventually goes beyond friendship.
There are many scenes in this book that are so sweet and heartwarming. The role playing, bondage scenes Ryan wants, Liam is happy to oblige. There are some scenes that are a little disturbing too. Especially, the ones with Ryan's boyfriend/stalker. This book has a little bit of everything and I found it to be very entertaining to read. And yes, it has a major cliffhanger at the end that I didn't see coming, but you know, I didn't care.
I loved this book and wouldn't let an abrupt ending keep me from reading it. You'll be missing out on a great, unique story if you do.
Reviewed by: Lynn
You can buy Special Needs (Special Needs #1) here: