"But if you're gonna dine with them cannibals
Sooner or later, darling, you're gonna get eaten . . ." ― Nick Cave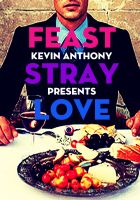 The advent of E-publishing has given authors, and aspiring authors, a whole new world in which to experiment with their craft. From fan fiction to self-publishing original work, the means of delivering a story to potential readers has never been easier, and sometimes for readers, it's even infinitely rewarding because the cost of feeding our voracious appetites for the written word has never been cheaper. On the surface, there doesn't seem to be a losing side in the proposition. Sadly, however, as with anything good, there is always the potential for an equal amount of the opposite, and that's where Feast, Stray, Love falls: solidly within the realms of a story that had some potential but fell woefully short in its execution.

There are basic elements every reader expects to get for their money when purchasing a book with his/her hard earned dollars–or, in the case of a free story, investing the precious time it takes to read it–the first being a solidly plotted book that grabs the attention from the earliest pages, then wends its way on from there, providing a foundation for engaging the imagination and holding the reader's attention by offering a cohesive and soundly delivered series of events that follow a pattern and motivates said reader to care about what happens next, all the way through to the resolution of the conflict.
The next, and perhaps most important expectation, depending upon the reader, is for a book to be solidly and soundly edited. It isn't enough to put the words on a page. No, the words have to make sense in order to keep the reader's focus upon the characters and their lives, and off of easily avoidable mistakes such as poor sentence structure and misused words; not to mention the fact a strong editor is there for support, to help the author make sure the narrative flows, that transitions are smooth, that the storyline makes sense, and that the characters behave in a way that will endear them in some small or significant way to the reader.
Which leads to dialogue and the way in which the characters are positioned to tell their story. If anyone believes dialogue isn't crucial to the solid foundation of a book, think about it as a real-world cue for interacting with each other. Even the most inane conversation can be entertaining, but if it doesn't provide the motivation for participation, or worse, if it merely boggles the mind and leaves you feeling as though you've missed out on some critical details, it's a lost cause because, honestly, that's the cue to tune-out. Characters who don't engage in somewhat interesting and marginally intelligent dialogue that serves to advance the plot and exposes them beyond a single dimension isn't likely to hold the reader's attention. Characters don't necessarily have to be brilliant conversationalists, but it does help immensely if they're likable, or are at least somewhat endearing in the face of their copious flaws. If there's no one single character insinuated in the story with whom I'd want to spend time getting to know, what is there to make me care about what happens to them? The answer: nothing, really.
There are few who are more in awe than I am of the ability to create, which means there are few who dislike more than I do not thoroughly loving a book. Unfortunately, Feast, Stray, Love took on an interesting premise—a man who ends up with some unusual side effects to cope with after a botched brain surgery, all mixed in with a side of cannibalism—then placed it in a non-descript setting, filled it with characters and a plotline that were not even close to fully fleshed out (pardon the pun), and in the end, became a lost cause for me.
I wish I could have related to this one as a decent horror story, or at the very least, a wicked bit of satire, but it simply didn't happen. I can't recommend this book but will give it 2 stars because I think the author has potential, especially with the help of a good editor and proofreader.