"Gym toned, carb ignorant and blissfully unaware of the emotional resonance of words, I have been knee deep in thigh-knockers without thought or feeling for as long as I could recall." – BJ Sheppard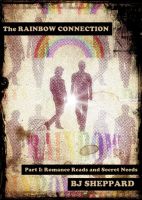 BLURB: Liam Adams thought that writing about life would be easy. He couldn't have been more wrong.
Situated at a non-functional desk in the farthest corner of his fifth floor communal office, Liam has been charged with writing a segment for the company's gay e-zine, "The Rainbow Connection". Trying to disseminate the role of gender in the readership of gay literature, Liam soon starts to realize the jarring juxtaposition between the sentimental tales of love and his own fly-by-night sexual agenda. Not a stranger to the company of strangers, Liam is set on a path to discover why it's the journey that matters most of all, and it takes a village to help him on his quest. From the overeating Social Networking Executive, to the liquor-addled Editor, Liam treads the road to enlightenment; and as the article reaches completion, the man realizes his latest sexual conquest could prove to be his last.
Humour and heart collide, as one man's journey takes a fork in the road and straight down a path of no return. Can Liam find his Rainbow Connection with a man who had been there all along?

REVIEW: Before I get into the actual review of this book, I am going to be 100% honest with all the wonderful people who visit The Novel Approach and read our posts, interviews, and reviews: I received this book free from Smashwords, just as everyone else can do, and am close friends with BJ Sheppard. I agreed to review this for the blog as long as BJ would still love me after I was done. Good or bad, like the author, love the author, or don't even know the author, I always give a fair and honest review. I want everyone to know that close friend or not, what I am about to say is EXACTLY that, my 100% honest views of the book. Now that all the disclaimers are out of the way, let's talk about Romance Reads and Secret Needs.
This book starts out with a very humorous introduction to Liam Adams. Liam is the poster boy for ADHD, at least in his own mind. The funny and sometimes over the top way he describes his co-workers and his own desk had me giggling from page one. I could picture this office and these crazy women in my head, right along with Liam's descriptions.
As it turns out, Liam has a journalism degree and is working on an article for the e-zine he works for. His article will tackle that question that a lot of us have asked: Why is the readership of male-male romance predominantly older females? Authors and reviewers too, for that matter!
When Liam starts his research into the answer to this question, he starts with his co-worker, Sheila. This was pretty much a non-starter, so Liam wisely returns to his own desk and hits Google. This also wasn't much help—those damned cute cats get every one of us at least one time or another, don't they?
After being caught doing some embarrassing brainstorming by his editor, he has a very frank discussion with Lourdes. She opens his eyes as to why SHE reads M/M romance, and the answers were interesting enough that he decides to ask all of the female M/M readers he knows for their thoughts. After sending out all the emails, he waits for the replies.
As the replies start coming in, Liam not only gets some answers he didn't expect, but also received some insight into himself that knocked him on his proverbial behind. Liam realized that he may have been missing some integral part of relationships for a while now. Holy hell, he realized there was more to life than the wham-bam-thank-you-man lifestyle he has been living for twenty-eight years.
The final email he receives is from a friend that basically lays it all out there. She wants to read M/M romance so she can read about gay men finding someone to love. She says the sex is superfluous, it's the journey that she loves. This comment reshapes everything Liam had thought and as he rewrote the article, with only one day until deadline, he realized he was inspired. He was inspired to maybe try that journey she spoke of, and he was inspired to maybe take a chance with someone who had been there all along.
Now, I have to say I am not the biggest fan of short stories. I feel there is usually a lot left unsaid, and sometimes the characters fall flat. I am pleasantly surprised to say that neither of those are true with this story. Liam, Lourdes, Sheila and the others were pretty well rounded. I feel like I got a good feeling for the type of people they are. Liam, especially, was hysterical.
This isn't technically a love story. There is no HEA, not even a HFN. However, this is the first of a series, and I am sure that Liam is moving in the right direction to get us there eventually. I know that I will definitely be along for the ride with all these crazy people, and have no doubt that BJ Sheppard will take us there, laughing the entire way.
This book wasn't perfectly written, there was a "huge member" and a "blossoming flower" thrown into the mix, but overall, it was a great first book. I highly recommend you give this one a chance. I know I will be following Liam on all his further adventures.
The Rainbow Connection Book One: Romance Needs and Secret Needs is available for FREE here: