"And that makes me happy. For it says that no matter how hard the world pushes against me, within me, there's something stronger-something better, pushing right back." – Albert Camus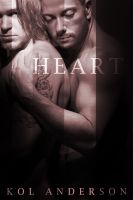 Roman Woodrow and Lucas Mayer meet on a plane en route to Vienna. Roman works for his father's tech company and Lucas's line of work is something of a mystery. Once they arrive, they spend a week sightseeing and enjoying getting to know each other before having one passionate night together. While Heart starts out as so many other boy meets boy/boy loses boy/boy finds boy and they live happily ever after books do, it quickly takes a dark turn. Roman disappears from Lucas's life.
After several years, Lucas has been unable to get Roman out of his head or heart. He sees an opportunity to be in the same place as Roman and decides to take a chance on meeting up again. As Roman has made it clear he doesn't spend more than one night with any one man, Lucas is taking a chance with his already bruised heart.

Kol Anderson creates these men and makes their feeling so real that I couldn't help but feel with them. Roman initially appears to be a spoiled little rich boy. Appearances couldn't be more deceiving. Roman is the best and worst in all of us. He is kind beyond measure to someone he meets in a bad situation. He is cruel with his words and his actions when he wants to be or when he feels backed into a corner. He is self-defeating, self-abusive and self-loathing. Roman is at times happy and young and free-spirited. He is one of the most complex characters I have ever read.
When Donkey famously told Shrek he was like an onion with many layers to peel back, he had nothing on Roman Woodrow. The men in Roman's life all meet different needs and initially each is unaware of the presence of the others. My heart breaks that Roman thinks he needs to have Daniel around. Daniel is manipulative and cruel where Lucas is sweet and loving. Jeremy is a supportive friend. It is tragic that Roman feels deserving of the bad choices he makes and undeserving of the good in his life.
Daniel and Lucas are both very powerful men. They each become aware of the other's role in Roman's life and the potential they both possess to wreck him emotionally. Lucas wants desperately to warn Roman about what he has found out regarding Daniel's history. But if he does he must also reveal his own past, and a part of his present that will tear Roman's heart to shreds. Whether he loves Roman enough to protect him, whatever the cost to Lucas himself, is the question.
While on the surface Heart seems like a typical love triangle, it is fathoms deeper than it appears to be initially. Each and every character is both more and less than they are at first perceived to be. Kol Anderson is an amazing young talent. To have such insight and depth of understanding of the human psyche at his age is astounding. I felt so many emotions while reading Heart. Jubilant laughter to sobbing, and everything in between. And it was worth it. The ride was an exciting and rewarding one. I am anxiously awaiting more from a writer with a brilliant future ahead of him. I can't recommend this book strongly enough.