"The bottom line is that people are never perfect, but love can be…" ― Tom Robbins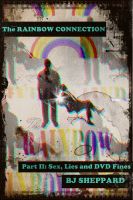 Title: The Rainbow Connection II: Sex, Lies, and DVD Fines
Author: BJ Shephard
Publisher: Smashwords
Pages/Word Count: 11,630 words
Rating: 5 Stars
Blurb: The course of true love never did run smooth for eccentric journalist Liam Adams..
After the success of his previous months column, Liam finds himself promoted and striving to impress with an article that will push the boundaries, not just of his work, but his love life as well. But will the subject of this months piece help or hinder as he struggles to keep his Rainbow Connection?

*~*~*~*~*~*~*~*~*~*~*~*~*~*~*~*
Review: I have read funny books—lots! Author names like Ethan Day and Anne Tenino come to mind when I think of novels that have both a great story line filled with hot sexual tension and a delightful humorous edge to them. Happily I can add another name to that list of authors—a new name on the m/m scene, BJ Sheppard. His second installment in The Rainbow Connection Series is not only a wonderfully constructed continuation of his first short story, but is also sharper, wittier, and oh so sexy.
The story follows Liam Adams as he takes over the job of chief writer and executive director at the magazine and with it his new office location on the 6th floor. Over numerous drunken lunches with his boss, Lourdes, Liam spills both his work and love life troubles while trying desperately to figure out why only Manny seems to be the catalyst for a contented life of late. Manny, that steamy hot mailman from work, has been Liam's main concern for the last four weeks and even though not one word of monogamy or commitment has crossed either man's lips, Liam finds himself losing any attraction to the former life he led, one that included casual sex and one night stands.
So it is with some worry that Manny discovers several messages on Liam's phone that are direct hits and offers for sex from the more popular gay hookup websites. Sites that Liam just happened to be researching for his latest article. Manny has misinterpreted and now Liam is left scrambling to figure out how he managed to lose the one thing that was going right in his life—the one man he finally wanted to be with, commit to and grow to possibly love.
Author BJ Sheppard's genius as a writer lays in the way he writes his characters. Both flawed and sweet, Liam's compulsive ramblings burrow their way into your heart and cause you to laugh at his antics and then soberly worry over the state of his heart. Sheppard's masterful descriptions of Liam's coworkers make his secondary cast of characters bounce off the page with a three dimensional feel—giving them depth and life. The story just shines. It's clever and funny, entertaining and manages to leave you wanting just a bit more. I look forward to reading the next installment in this delightful series. BJ Sheppard-remember that name, he is a new author that bears watching!
You can buy The Rainbow Connection – Part II: Sex, Lies, and DVD Fines here: