"I'd risk everything for one kiss, everything. Yes I'd do anything.
Anything? Anything for you." ― I'd Do Anything from Oliver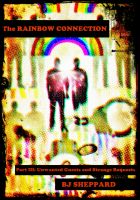 Title: The Rainbow Connection-Part III: Unwanted Guests and Strange Requests
Author: BJ Sheppard
Publisher: Smashwords
Pages/Word Count: 15,530 Words
Rating: 5 Stars
Blurb: It's a slippery slope between perfection and perversion, and Liam Adams finds himself on the wrong side of the line.

Again. When an email picture piques his interest, he thinks he's found the perfect Christmas gift for Manny. Between a visit to a dungeon and the unexpected arrival of Manny's mother, Liam faces his toughest challenge yet – surviving Christmas with his dignity intact.
*~*~*~*~*~*~*~*~*~*~*~*~*~*~*~*
Review: Liam is back….oh how lovely a phrase that is to write. This time our poor intrepid writer is tackling a piece on that oh-so-special kink, BDSM. Having viewed a picture sent to him by his friend that had "little Liam" at attention, Big Liam is shocked to see some similarities in the way he and Manny conduct themselves in the bedroom seemingly line up with the Dom/sub scenario found in the BDSM snapshot. After a four cocktail lunch with the delicious lush, Lourdes, Liam returns determined to not only write about his own research into the fetish world, but also to buy Manny a box of mind boggling toys from said world for Christmas. What he does not count on is his "vanilla" sensibilities being downright terrified of the BDSM scene, a "surprise" visitor Manny brings home unexpectedly, or the fact that while Manny may seem dominant, he is not really what would be described as leather daddy material.
Once again, author BJ Sheppard made me laugh until it hurt! Each new installment in the Rainbow Connection series is like receiving another box of fine chocolates. You know they will delight your senses and you cannot wait to see what little surprises lay inside. Unwanted Guests and Strange Requests did not disappoint in the least. So, in the spirit of Liam's delightful "list making" way, I will give you the top three reasons you should read this series!
1. It is just, hands down, without a doubt, some of the funniest story telling on the market today. Liam and his crew of misfit fellow employees continue to skirt the edge of insanity as he narrates one delightfully ridiculous scenario after another. Accidents and mishaps just don't happen around Liam, they are his life, and it is his sweet innocence and real love for Manny that make this character just irresistible. Liam worms his way into your heart and despite his best intentions, hilarity ensues wherever he goes.
2. The best Boss ever! Barring the fact that Lourdes never seems to be fully sober, her witty and sarcastic repartee hides the heart of a kitten. While she may seem hard as nails even while sloshed, author BJ Sheppard writes her in such a way that you can see the kind-hearted friend beneath the bossy exterior. The scenes between her and Liam are just gold! Sharp and intelligent, their exchanges over liquid lunches are the highlight of every installment in this series.
3. One of the most intelligent, humorous and gifted new M/M writers on the scene today! No, I am not describing his character Liam, I am, once again, reminding us all that BJ Sheppard is a force to contend with in the best of ways. His humor is spot on, his dialogue sharp and witty, his ongoing storyline interesting and entertaining. BJ Sheppard is, in my opinion, one of the brightest lights in the M/M world of fiction today. His writing remains, for me, one of the highlights of this genre.
You can buy The Rainbow Connection Part III: Unwanted Guests and Strange Requests here: